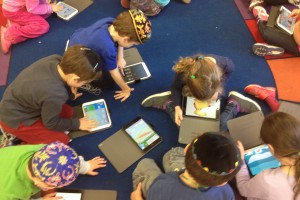 In today's educational landscape, the role and purpose of technology has dramatically shifted toward a fully integrated and seamless presence.  Technology devices have become essential in learning and instruction:
Increased access to information

Ability to collaborate, create, and connect beyond the walls of the classroom

Opportunity for differentiation and personalization of education

Opportunities for teaching executive functioning strategies using technology
Classroom technology is part of our reality, and at Netivot, we have an obligation to embrace it and continue to explore the potential benefits it brings to teaching and learning. Today's students are encouraged to develop skills of creativity, collaboration, communication and critical thinking, often called "4 Cs" –  skills that will open up doors of opportunity and hopefully lead our students to achieve their aspirations as self-motivated, lifelong learners. By providing our students with learning opportunities that develop and extend these skills, our goal is that they continue to learn, thrive and succeed, while at the same time maintain our core values of Torah, Israel and Derech Eretz.
Check out Netivot's Technology Lab blog page for a complete list of educational activities and resources our students are currently working on